Network of Specialists
Through Northwestern Mutual, I have access to a Network of Specialists. We help each other, share ideas and common values, and leverage each other's talents to help you achieve your personal dream of financial security.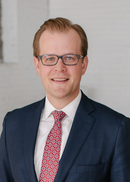 Jesse Bergland's career at Northwestern Mutual began as a financial representative intern in 2002 while he was attending Carlson school of Management at the University of Minnesota. After graduating, Jesse converted his contract to a full-time financial representative, and in no time furthered his career as a Recruiting Field Director and then Managing Director. After four years at the helm of the Eden Prairie district office, Jesse shifted his focus from managing the office to growing his personal practice as a Wealth Management Advisor.
Jesse and Kailee frequently work together, leveraging each other's expertise to best serve their clients' needs. Jesse specializes in helping busy professionals within 5-20 years of retirement fill the gaps in their financial plan and develop a distribution strategy that instills confidence to enjoy life while achieving their most important goals.